Using the DLL with the HackPack
There have been created a dll that allows you to change internal values in Warhammer Online.
The dll is used in a process called Injecting. To help you inject this dll, various programmers created programs to inject it automatically.
The program that i use is Winject. This program is easy to use and only takes a few seconds to inject a dll.
Downloads
Warextdll.dll
Winject
HackPack'
Injecting
"Must have Warhammer open to inject
Download Winject and Warextdll and place them on your desktop.
Start Winject. Click the down arrow (
red
) on the right side of 'Target Process'. Select war.exe. This selects the Warhammer Process.
Click the Down arrow (
green
) next to 'DLL to Inject' and select warextdll.dll on your desktop.
Finally, press the Inject(+) button (
fucia
). This will inject the dll into Warhammer!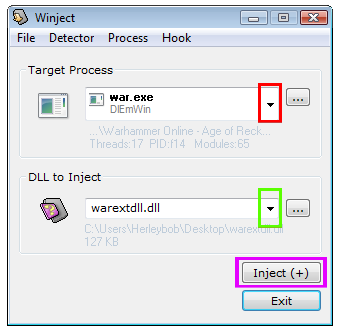 Using HackPack
!!! Be careful! Do not use these hacks around other players !!!
Download the HackPack addon and put it in your /interface/addon folder in your warhammer directory.
Start up Warhammer and login. You must enable HackPack to be able to use it.
Inject the dll using the process stated earlier. To use the HackPack, you MUST have injected the dll.
Once the addon has been enabled, you should be able to see a button in the middle of your screen.

To get the menu to show up, left click the button.